Acknowledging traditional territory in the liturgy
Acknowledging traditional territory in the liturgy
Wednesday, August 2, 2017

By Clarence Li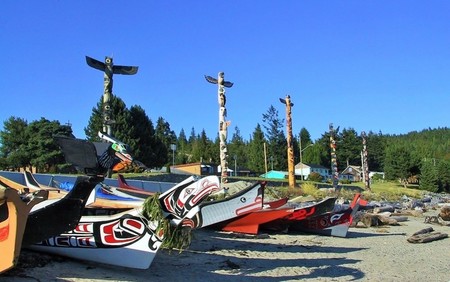 "As we gather on the unceded ancestral lands of the Coast Salish people, the traditional territory of the shíshálh First Nation, let us pray that Christ's grace and peace will be with us..."
Last month on Aboriginal Sunday (June 18), I introduced a set of liturgical greeting at the 10 o'clock service incorporating an acknowledgement of traditional territory where we are worshipping on. Some have asked me since, "Why are we doing that?", "What is the significance of that in our Common Prayer?" "Are you mixing politics with worship?"
Let me begin with the significance of territory acknowledgment. In the recent CBC article: What is the significance of acknowledging the Indigenous lands we are on? (click on link for full article), the author observed that "...many Indigenous people say [territory acknowledgement] marks a small but essential step toward reconciliation."
Karyn Recollet, an urban Cree woman and an associate professor at the University of Toronto's Women and Gender Studies Institute says, "To think about land activation and land acknowledgement is to remember that there are these rich Indigenous governances that still exist, that are ongoing and that will go into the future."
If that is the case, one may argue that the rightful place of territory acknowledgement should be in civil and governmental gatherings. Why are we doing that in our worship?
The purpose of acknowledging the traditional territory where we are worshipping on is twofold
to invoke a sense of gratitude, and
to bring to the forefront the gospel's call for reconciliation and to give context to what reconciliation means to us here and now.
First, imagine if you are visiting somebody's home. Would you want to acknowledge how grateful you are being the guest? This simple gesture of remembering that we are worshipping on the traditional territory of the shíshálh people gives us the opportunity to begin worship from a place of gratitude as well as to consider the question 'How am I benefitting by living on this land that is a traditional territory of Indigenous people?'"
Second, the mission of God in any time and space is void unless the mission is embodied (isn't Jesus the "Word of God became flesh"?). Anglican worship is rooted in the tradition of Lex orandi, lex credendi (the law of praying is the law of believing, or more commonly put, "as we pray, so we believe"). By acknowledging the indigenous lands we are on as we worship, we give substance to the ministry of reconciliation in the way how we pray together.
The liturgical greeting recently introduced was adapted from the recent Opening Eucharist at our Diocesan Synod. It was a significant step and a sincere effort to solidify the Anglican Church of Canada's commitment to walk with our Indigenous brothers and sisters in the spirit of reconciliation in the way how we gather together and pray each Sunday. I pray that the worshipping community of St. Hilda's may continue our culture of being open and bold to experiment new liturgical forms to shape us according to the mission of God right where we are today and tomorrow.
For further reading:
An Open Letter to all Anglicans from the Primate's Commission on Discovery, Reconciliation and Justice
Kairos Territorial Acknowledgement as an Act of Reconciliation
Is acknowledging indigenous territory enough?, a perspective by Lynn Gehl, an Agonquin Anishinaabe-kwe from what is now called Ottawa River valley
Excerpt: "Acknowledging Algonquin territory must be about more than protocol, rhetoric, and a lovely sentiment. Acknowledging traditional Indigenous territories means valuing that we are indeed Nations in concrete and real ways. It must mean valuing the stories Creator has, and we have, inscribed in our land and waterscapes as both marking our territory and as the beginning of our governance structures..."