BC Housing Public Meeting for NEW interim Shelter
BC Housing Public Meeting for NEW interim Shelter
Wednesday, August 16, 2017

Important: This event has already occurred.

5:00PM - 7:30PM
5604 Trail Avenue (Seniors Centre Craft Room)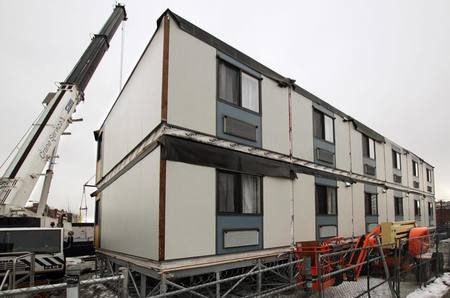 BC Housing and RainCity Housing invite the public to an information meeting to discuss the proposal to relocate the existing St. Hilda's shelter to a new location at the northeast corner of the intersection of Ebbtide Street and Trail Avenue in Sechelt. The shelter would replace the existing St.Hilda's shelter.
The proposed location would provide 40 shelter beds, with expanded support services, on District-owned land.
The information meeting is an opportunity for community members to learn about the project, review the preliminary plans and provide feedback.
BC Housing will be seeking a lease on the land and a temporary use permit for 3 years, with an opportunity to extend a further 3 years, from the District of Sechelt.
Picture shown is an example of a modular housing project at Main Street and Terminal Avenue in Vancouver. (Courtesy of Business Vancouver)
Return to Events
---