Special Vestry Meeting
Special Vestry Meeting
Sunday, October 15, 2017

Important: This event has already occurred.

11:30AM - 12:30PM
Church Hall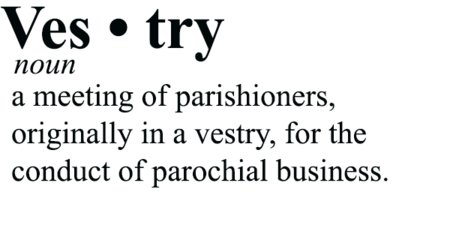 Update on this Sunday Special Vestry Meeting:
The Wardens, the Treasurer, and the Rector found out this week that our building consultants are still considering how best to achieve remediation and are not ready to present a proposal this coming Sunday. In light of this, we are going to have a shorter meeting (15-20 minutes) to present and vote on 2 motions to authorize existing internal funds for the first stage of remediation. Please kindly read the information sheet below in advance. 10 o'clock service parishioners are asked to arrive early to register for the Vestry Meeting BEFORE the service. 8:30 am parishioners please kindly return to register at 11:30 am. There will be coffee/tea after the service but no lunch will be provided.
Motions moved by Church Committee to be adopted:
Motion 1: To remove the restriction on $15,438 in the Property Fund, originally raised for the building of a new Parish Hall.
Motion 2: To allow Church Committee to borrow from the Development Fund up to $150,000 with simple interest at prime to pay for the first stage of the remediation of the sanctuary.
Available Files to Download
To download, right-click the file and select "Save link as".
Return to Events
---